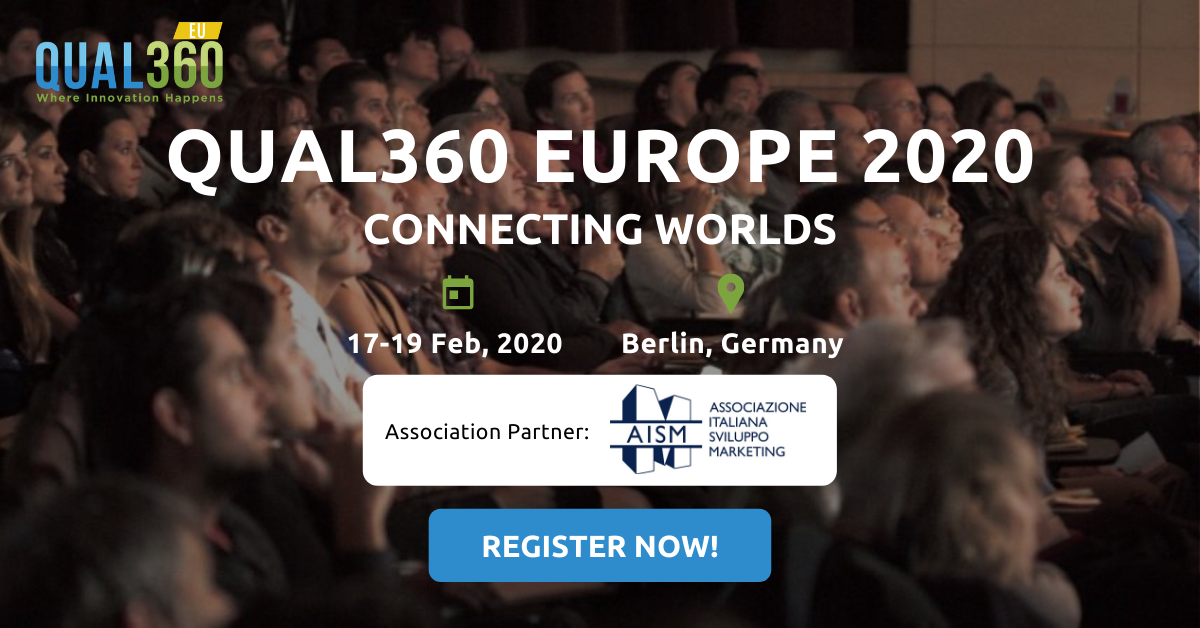 Date: February
17-19, 2020
Venue: Berlin
Registration Link: 
QUAL360
We are excited to announce that 
AISM
 is the official association partner of 
Qual360 Europe 2020
 which is going to held in 
Berlin 17-19 February.
 Under our 2020 theme of 
Connecting Worlds
 the conference agenda is once again packed with client case studies from visionary companies likeB 
Badoo, Kindoh, Unilever, Sky, Kao, the BBC, Electrolux, Colt, Beiersdorf
and many more.
Qual360 Europe will explore the latest trends in qualitative research, from the latest technology innovations to practical case studies covering innovation, ethnography, product development, customer journey mapping and much more. An unprecedented 20+ client case studies will give you real insights straight from the horses mouth!
---

AISM patrocina  Qual360 Europe 2020 evento internazionale rivolto ai professionisti della ricerca qualitativa con focus sugli approcci di ricerca innovativi, sulle ultime metodologie e su come capitalizzare nuovi tipi di Insight.
Per i Soci è attivo un codice promozionale che consente di fruire dello sconto del 15% sulla quota di partecipazione.
Per saperne di più: Segreteria AISM info@aism.org